Group Classes At Anderson Sport And Wellness
We Have A Class For That!
Not sure what class is right for you?
Read more about our classes below!
Group Fitness Class Schedule
How To Choose What Class Is Best For You
Ease Pain & Stiffness MELT Class:
If you want to ease pain & stiffness instantly – take this class. It is a 50 minute class using soft rollers, soft tools, and a soft ball that will transform your body and free your mind from stress and strain. This class is gentle enough for a 90 year old who is osteoporotic and powerful enough for a professional athlete. You can come in street clothes to this class, but we recommend that dresses not be worn as sometimes you will be in positions that could be exposing if you are in a dress.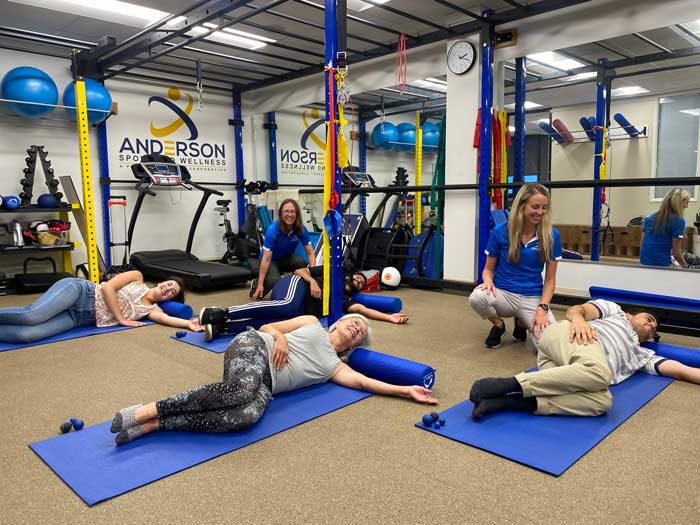 What to Expect at a Total Body Reboot Class at Anderson Sport And Wellness
The Body Reboot class series was designed by Dr. Nicole Anderson in order to make your muscles work together correctly and prevent the causes of common aches and pains at the root level.
Do you have a fitness goal and aren't sure how to get there? The exercise program in our unique Body Reboot class was specifically designed for people who want to get active or stay active without getting injured. With our small class sizes (8 people max.) you won't get lost in the crowd and can get one-on-one attention from your expert instructor.  Anderson Sport and Wellness is the perfect place to exercise in a fun and safe way.
This is a fitness class, NOT a physical therapy group session. If you have a current injury, call and ask us to speak with a Doctor of Physical Therapy for free and find out if you can safely participate.
Level 1 Total Body Reboot
No special equipment required! The Level 1 Body Reboot class is normally offered both in the clinic and LIVE online. Due to COVID 19 it is online only at this time. It is a strength and conditioning fitness class designed by Doctor of Physical Therapy Nicole Anderson with a focus on preventing the causes of pain in the body including neck, shoulder, back, hip, knee and ankle pain. This class is best for someone who is completely new to fitness or easing back in. This level 1 reboot class helps people get up and down off the floor, climb the stairs, reach to grab something from the top shelf, and prevent falls.
Level 2 Total Body Reboot
Level 2 Body Reboot class is normally offered in the clinic and as a LIVE online strength and conditioning fitness class. Due to COVID 19 it is only offered online at this time. This class is best for someone who has some fitness already and wants to hike, run, surf, stand up paddleboard, kayak, ski, or snowboard better and without injuries.
Build the strength you need for an active lifestyle PLUS feel and look great!
Sign Up For a Class Today!
For additional questions please call us at
MELT
Success Stories

From People Just Like You...
"One of the greatest things I gained was I now practice MELT all the time. I stopped needing to go to the chiropractor. I stopped needing one-on-one treatment at Anderson Sport and Wellness. My therapist even taught me how to adjust my own neck, gently using strain counterstrain, so when it goes out – which is rare, I can usually fix it myself."
- Occupational Therapist Cherie Francis-Boegeman
"Within the first MELT Ease Pain and Stiffness class at Anderson Sport and Wellness I was surprised how much my ankle mobility improved, as well as the chronic pain in my back and hip. After just 4 classes the hip and back pain was almost gone! It feels good while doing it and I felt better after each class. I love MELT!"
"My first introduction to Anderson Sport and Wellness was the MELT classes. I had immediate pain relief. I was so used to living in pain, all different degrees of pain. With the classes I was always getting information, I was always learning about my body and how to tune in, and things just started peeling away, and I was like, oh, I don't have to live in this pain!"
Balance and Mobility Boost Class:
If you are stiff and want better mobility, strength with length, and improved balance, take this class. This is a very gentle AND powerful class that will produce results you can see AND feel. with regular participation in this class you will experience: improvement in your balance and relief of Back, Neck, and Shoulder pain and Stiffness: Small Class Size – Taught by a Doctor of Physical Therapy – Better Posture – More Flexibility – Better Coordination – Leaner Body – Less Stress – Deeper Breath – Stronger Core – More Energy!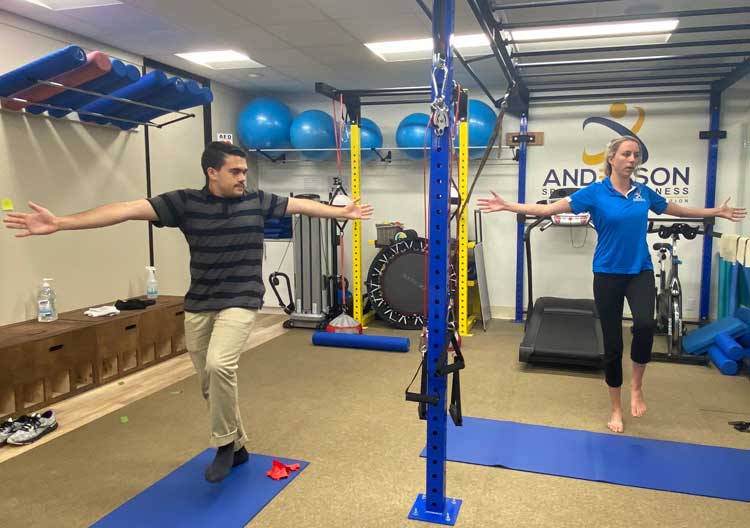 Balance And Mobility Boost Class Success Stories

From People Just Like You...
"I just decided to take really good care of myself after a problem with my knee (meniscus tear), and now thanks to the physical therapy and group classes here I'm in the best shape now than I've been in since my 20s. And I come here twice a week (or attend online). It's a joy and fun, and I learned so much about myself and my body. And if I do get hurt or tired, I know what I can do to alleviate it, and it's a quick solution. MELT has helped me so much in relaxing and releasing any muscle tension, and stress too. I'm in the same shape I was in when I was in my 20s that I climbed Mount Whitney in a day. And I'm strong, I'm fit, and all thanks to the team at Anderson Sport and Wellness and my training here with them and learning everything that they teach. In every class, there's a-ha moment for me, and I can't thank them enough."
- Doctor of Physical Therapy Nicole Madonia, DPT
"Take it from a physical therapist …this is worth your time and your money. I would not come here being a trained physical therapist if I did not think it was important. Their approach, attention to detail and dedication to their clients is unique. I would say if you're gonna give it a chance and you really wanna get better, this is the place you want to be."
Boost Athleticism Boot Camp:
If you want to improve athletic performance and reduce injury risk with a high intensity 30-minute workout, this class will rock your world in the best possible way. You will learn exercises in this class you have never seen before, because they were invented at Anderson Sport and Wellness. Many of these exercises create efficiency in the way your body works – which is why we can get a total body workout that improves athletic performance in just 30 minutes. Feedback we get from people is that their golf game improves, they enjoy surfing more because they catch and stay on more waves, and their soccer, tennis, and volleyball performance is noticeably better, just to name a few.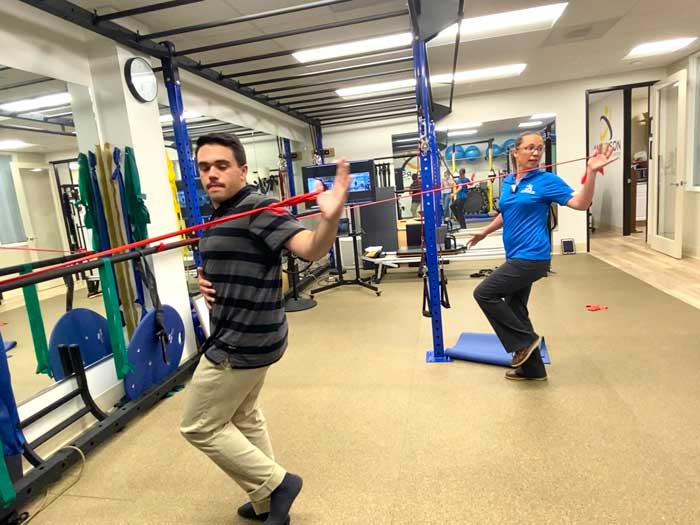 Boost Athleticism Boot Camp
Success Stories

From
People Just Like You...
"I play tennis several times a week and I am in my 70's. I know that the classes at Anderson Sport and Wellness and especially this Boost Athleticism Boot Camp are keeping me mobile and injury free. My tennis partner noticed my tennis game improved and I told him he has to go check out this class because it has been a game-changer for me. I also MELT every night before bed because it feels good while I'm doing it and I wake up with no stiffness or pain when I MELT the night before."
- Courtney Conlogue, professional surfer
"Sometimes you need guidance, and Dr. Anderson and her team are where I found it. I learned about how putting a bandaid on things is just a chain reaction for future pain. Through Dr. Anderson's prevention and athletic performance enhancement programs, I was able to mend and optimize my performance after injury. You also need those 1 on 1 treatments to catalyze the healing process. Throughout my athletic journey, I have always had a warrior-like mentality. Whether you are dealing with the daily 9 to 5 back pain, or trying to improve yourself to be able to do a marathon, or do what I'm doing and being on the World Tour – whatever it might be, her team is able to help you virtually, personally, or give you take-home programs. For me, being a traveling athlete 250 days out of the year, having that versatility is crucial."
"What a fantastic place! Dr Anderson and Dr Winters are incredibly knowledgeable, friendly, and attentive. The classes are easy to follow, both in person and on Zoom, and the initial membership for unlimited classes is only $1.00 for the first month. I have already seen enormous improvement in my strength, flexibility, and balance and as a surfer, I've also seen improvement in my surfing, pop up and stamina. I cannot say enough great things about this place and the fantastic staff!!"
If you have pain during or after exercise and want to exercise safely under expert guidance, take this class. You will learn what exercises are best for you right now and how do perform them correctly. Often people think they are doing an exercise correct, but when coached by our expert staff, realize that they were not, and that is part of why they hurt during or after exercise. Also sometimes people are doing exercises they are not ready for or too much of something. In this class our instructor will dial you in and help you exercise in a FUN and SAFE way.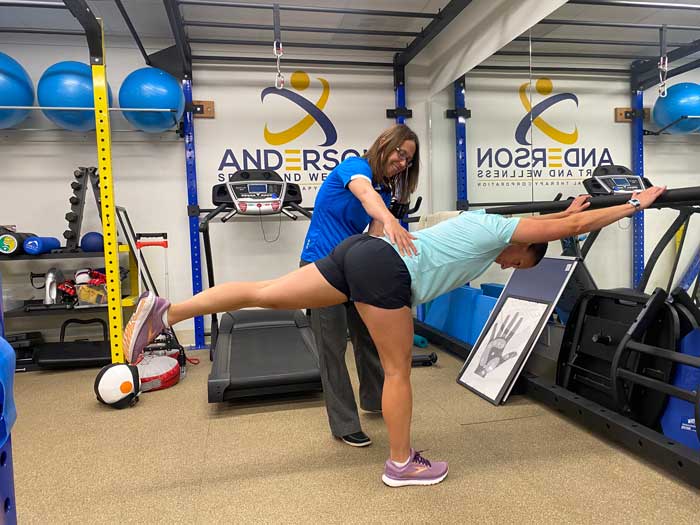 Total Body Reboot Class Success Stories

From People Just Like You...
"So I used to avoid any type of exercise because I would injure myself every time I would do it – for years – I couldn't do it, but these classes allowed me to exercise in a gentle way. Then I started doing the physical therapy, and the combination was peeling away and allowing my body to move in ways I hadn't in years – since I was a teenager."
"Dr. Nicole and her team has immensely helped me during a very hard time in my life with her patient, caring, and thoughtful ways of providing treatment. I've attended several of the group classes as well as receiving 1-on-1 therapy. I've never had such a great experience with a health practitioner which really aided in helping me with my bodily pain and allowed me to have a better understanding of my own body. I recommend Anderson Sport and Wellness to anyone who needs pain relief!"